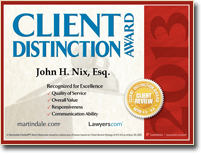 Less than 4% of all attorneys listed on Martindale.com and Lawyers.com have been awarded this Martindale-Hubbell® distinctive honor.
John Nix earned this award for the excellence in the following:
Quality of Service
Overall Value
Responsiveness
Communication Ability


John H Nix was voted Seriously Outstanding by his peers at Super Lawyers.
Only 5% of all attorneys who go through the multi-phased process achieve this rank.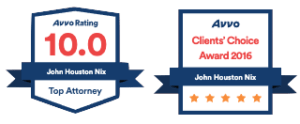 John Nix earned a Top Attorney and Clients' Choice award for receiving numerous 5-star reviews and endorsements from his peers.
A legal problem is serious for any person, but for a juvenile, it can impact the rest of their life before they even reach adulthood. At The John Nix Law Office, we have prior experience with delinquency cases and will provide you with the guidance you need.
In Texas, juveniles may be charged as adults, an action more district attorneys have been making in recent years.
In that case, a fitness hearing will be held to determine if the minor is fit to stand trial as an adult. At this stage, it is critical to contact an attorney with proven results in the area of juvenile law.
Our goal is to have your son or daughter treated not as an adult but as a juvenile and work toward a result that will minimally impact your child's future.
We handle issues related to competency, emotional and psychiatric issues, as well as sealing juvenile records when your child turns 18.
At The John Nix Law Office, we handle delinquency cases when a minor has been charged with crimes such as the following:
vandalism
sex offenses
robbery
carjacking
drug crimes
We will also defend your minor against charges incurred on school grounds.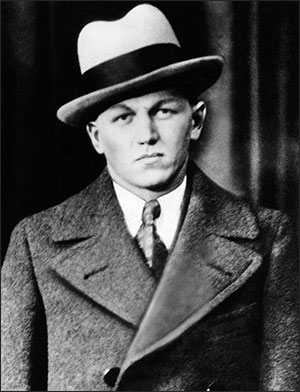 When you choose the John Nix Law Office, you're choosing legal professionals who will work endlessly to protect your child's legal rights. Call us today for you free initial consultation.
Request a free Legal Consultation